Thermal Remediation®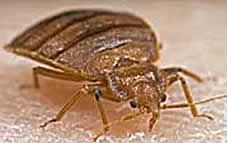 The Thermal Remediation® target temperature during treatment is between 120-135°F, the temperature necessary for heat to penetrate bed bug harborages. This safe, effective, and environmentally friendly process uses dry heat to kill the entire life cycle of bed bugs, while reducing the application of insecticides.
Heat treatment is the perfect application for heavy infestations, sensitive areas, and anyone wishing to keep pesticides out of their bedroom.
Our certified Thermal Remediation® staff will be glad to visit your facility to inspect and design a treatment plan. We also offer on-site training for your house-keeping staff in bed bug identification and prevention.
'Thermal Remediation' is a trademark owned by TEMP-AIR, Inc. and is used with permission.